Inspiration sure can be fickle. One minute the Color Book was my top priority, and the next minute my inspiration decided to take a detour to my quilt alongs. I think this may be why I have so many WIPs. At least I haven't started anything new lately.
Kaleidoscope Quilt Along: I do not like using templates at all. It's so slow! Luckily, I love how this quilt is coming together, so it's worth it, just this once. My husband has generously offered to help with the ironing, which is speeding this up nicely. A bunch of the block quarters are finished, so I now have a feel for how the blocks are going to turn out. I'd love to have the top pieced this week so I can machine quilt it this weekend.
Warm Cool Quilt Along: I have loved this quilt from the day I started it, and it has not let up. I am way behind on the quilt along (which is already finished), so there isn't really any rush to finish. I'm taking my time and enjoying the process. Just a few more seams and the top will be finished! I will be hand quilting this one.
Dots Swap!: I'm co-hosting a

swap

for the first time, which is a new kind of WIP for me. I really enjoyed designing the button and look forward to the swap itself. (I'm not counting this in my stats since it's a swap.)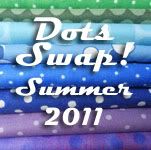 On Hold
Blueberry Pie
Call Me Crazy {17/42 blocks complete}
Color Book
Scrappy Nine-Patch {12/70 blocks complete}
Valentine's Day Half-Square Triangles
New projects: 0
Completed projects: 0
Total projects: 14